PHOTO WALLPAPER WITH BIRDS
From a kingfisher to a peacock and a striped prinia. Birds come in all shapes and sizes and the same goes for bird wallpaper. On Wallart.com you will find a wide range of different types of wallpaper with birds. How about, for example, two flying swans in front of a dark sky? Of a cheerful jungle pattern in bright colours with flamingos? Or an enlargement of 'The floating feather' - a well-known painting by painter Melchior d'Hondecoeter?
Do you like nature? Take a look at our nature wallpaper or forest wallpaper. Bird wallpaper is easy to order online.
LARGE CHOICE OF WALLPAPER WITH BIRDS
Thanks to the extensive choice of wallpaper with birds on our website, you will always find something to your taste. In addition to the aforementioned examples, we have brightly coloured specimens of a peacock with stuffed feathers. And peacock feathers in close-up. A dreamy photo wallpaper of a swan in a pond surrounded by a forest in autumn colours. And an abstractly drawn hawk in black and white. Furthermore we have some very nice patterns of birds and flowers. From tropical toucans in bright colours, cute owls in soft colours and a colourful flamingo wallpaper with palm leaves.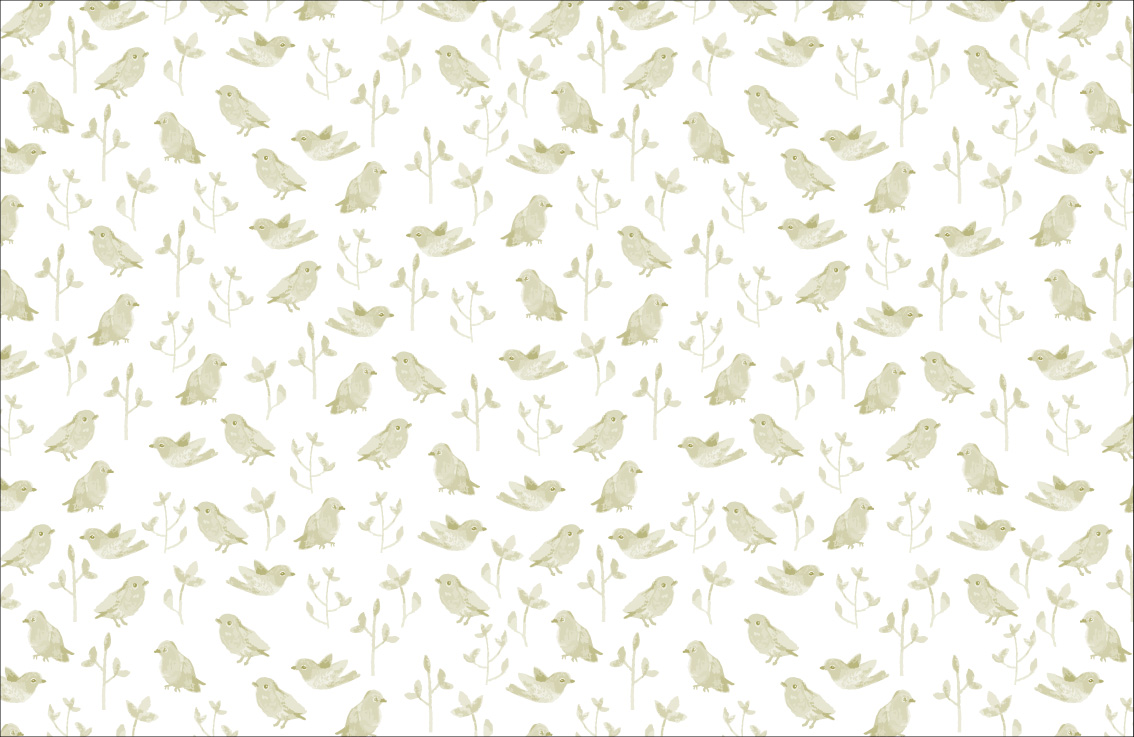 BIRD WALLPAPER IN YOUR INTERIOR
Photo wallpaper with birds is very suitable to break through a long wall in a room. By wallpapering part of a wall, you can easily create an atmosphere and create a cosy feeling with a few simple interventions. You can also brighten up an entire wall with bird wallpaper. In our range you will find a suitable wallpaper for every type of room. For example, the patterns of birds are very nice for children's and teenagers' rooms. Are the large prints of photo wallpaper with birds beautiful in a long hall or bedroom. And the close-up of a brown spring texture looks great in the living room.
CUSTOM MADE WALLPAPER WITH BIRDS
If you have made a choice for a beautiful wallpaper, you can easily order it online. As soon as we have received your order, we will start working with your wallpaper. We print your wallpaper on our large format printers. An image is printed in one piece, so that patterns run into each other perfectly.
We only use PVC-free non-woven wallpaper as wallpaper. Non-woven wallpaper does not shrink, gives a razor-sharp print and is easy to apply. The inks used are water-based and odourless. Production takes place on working days within 24 hours and delivery is within 1-3 days.
Attention! We print an extra 5 cm all around because walls are not always straight. The photo wallpaper is therefore printed 10 cm wider and higher. After wallpapering you have to cut it away. Uncheck this option to have the wallpaper printed exactly to size. 
SATISFIED?
If you are satisfied with your result, we are happy to hear from you. Will you send us a picture of the result? Or share it with us on social media?
Discover more animal wallpaper
Do you like animal wallpaper, but don't see what you are looking for? Then take a look at the rest of our website. We have animal wallpaper in all shapes and sizes. Imagine yourself in the jungle with jungle wallpaper and experience the greatest adventures in your own home. Walk past a waterfall every day, admire the monkeys in the trees and marvel at the most beautiful palm leaves you have ever seen. You can also choose a nature wallpaper with images of the forest, the sea or the mountains. This will make you feel wonderfully relaxed. Or create really cool effects with the 3d wallpaper from our collection. It will seem as if an elephant walks into your living room, a fantasy lion appears on the wall, or a giraffe with a candlestick stands in your living room.