Wallpaper ideas corridor: eye-catcher on a narrow wall
Our favourite types of corridor wallpaper are undoubtedly the vertical panels of Scottish Highlanders. We have them in black and white and in dark colours with a beautiful incidence of light. If you stick them on the narrowest part of the wall between two doors, you will no longer need a painting. In combination with atmospheric lighting and a matching colour on the nearby walls, you can create a wonderful effect. You can achieve the same with vertical photo wallpaper of, for example, the sunrise in the forest, a jetty at a pink sunset, or the Mona Lisa. 
A nice coat rack, stylish wall lights and a tidy shoe cabinet are just a few of the goodies. Take a look at our extensive collection to see which entrance wallpaper best suits your living.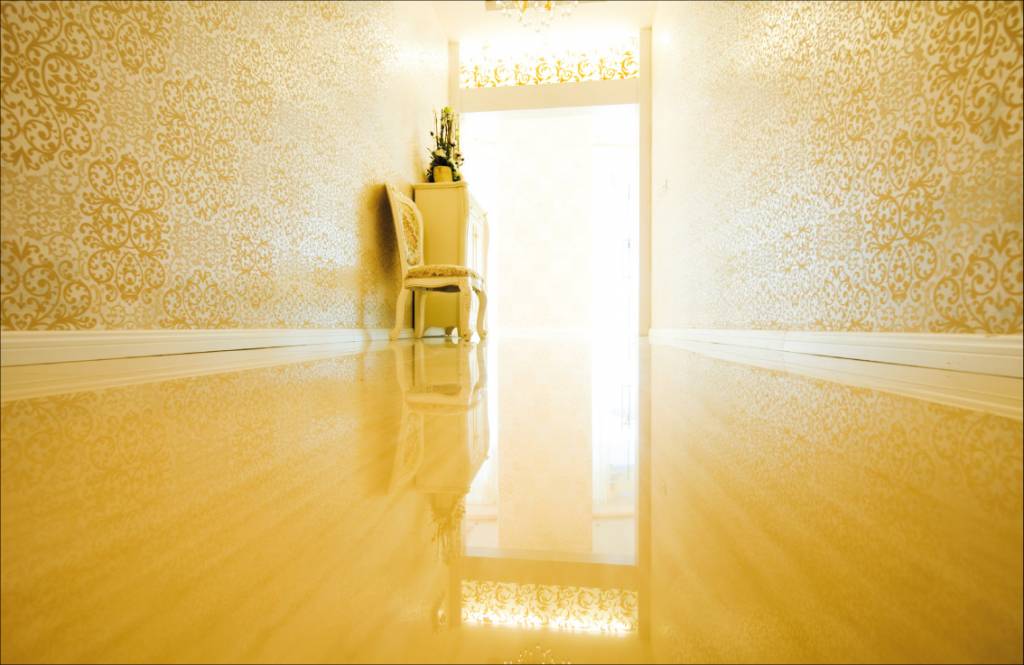 Hallway wallpaper: emphasise the length of the hallway
You can also choose to emphasise the length of the hall. With a wide wallpaper for the hallway. Think for example of the photo wallpaper of poppies in black, white and red. A close-up of cherry blossom. Or a fairytale-like picture of an old bridge or swan in autumn. Looking for something different? Then go for the hallway wallpaper of Amsterdam houses at night, blue baroque, or the sunset over a mountain. Whatever you choose, wallpaper in the corridor will brighten up the entrance to your home. Combine it in the right way and coming home will be even nicer!
Hallway wallpaper made to measure
If you have chosen a nice corridor wallpaper, you can easily order it online. As soon as we receive your order, we get to work for you. We print your corridor wallpaper on our large format printers. We print an image in one piece, so patterns flow into each other perfectly.
Moreover, we only use PVC-free non-woven wallpaper. Non-woven wallpaper does not shrink, produces a razor-sharp print and is easy to apply. The inks used are water-based and odourless. Production takes place within 24 hours on working days and delivery within 1-3 days.
Attention! We print standard 5 centimetres extra around the edges because walls are not always straight. The photo wallpaper will therefore be printed 10 centimetres wider and higher. After the wallpapering you have to cut it away. Uncheck this option to have the wallpaper printed in exactly the right size.
Wallpaper accessories
Don't forget to order the right tools. Then you can immediately start applying the wallpaper when you receive your order.
Happy?
If you are satisfied with your result, we would be pleased to hear from you. Will you send us a picture of the result? Or share it with us on social media.