Wallpaper children's room nature
The most frequently chosen children's room wallpaper has something to do with nature. Think of illustrations of animals in the forest, flamingos or a pattern of animals in the jungle. But also the photo wallpaper of squirrel monkeys on a rope, a large drawing of dinosaurs or sloths in branches. Or for example a patterned wallpaper of trees in watercolour, unicorns or abstract palm leaves in cheerful colours. 
At Wallgroup.com we have children's room wallpaper in all shapes and sizes. So you and your child will always find one that you like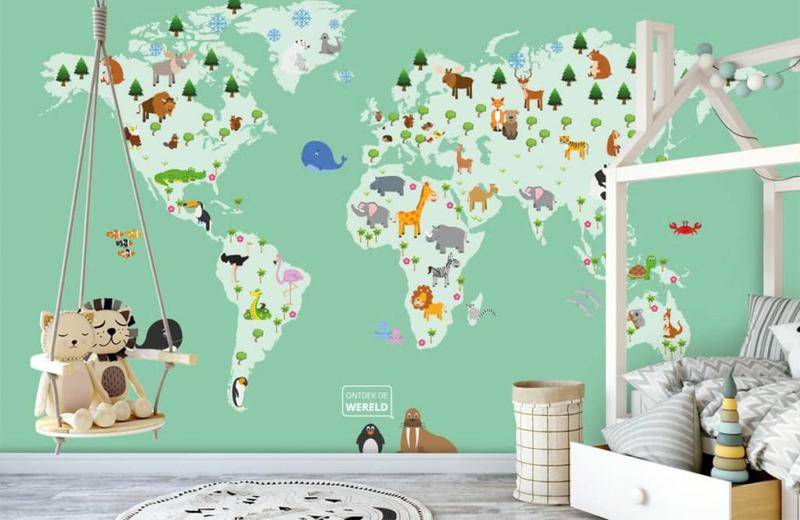 Combine children's room wallpaper
Whatever children's room wallpaper you choose, it is always nice to create unity in a room. Style the nursery in such a way that elements from the wallpaper recur in the rest of the interior. If you go for the children's room wallpaper of cactuses and llamas, put a real cactus in the room, choose dark green curtains and let the llamas come back in the duvet cover, for example. Are you going for the landscape illustration in turquoise? Then combine it with natural materials such as a rattan rug, wicker baskets and a desk made of robust wood. Dress it up nicely with plants, cuddly toys and, for example, a desk lamp in turquoise.
Children's room wallpaper made to measure
If you have chosen a nice children's room wallpaper, you can easily order it online. As soon as we receive your order, we will get to work for you. We print your children's room wallpaper on our large format printers. We print an image in one piece, so that patterns flow into each other perfectly. 
Moreover, we only use PVC-free non-woven wallpaper. Non-woven wallpaper does not shrink, produces a razor-sharp print and is easy to apply. The inks used are water-based and odourless. Production takes place within 24 hours on working days and delivery within 1-3 days.
Attention! We print standard 5 centimetres extra around the edges because walls are not always straight. The photo wallpaper will therefore be printed 10 centimetres wider and higher. After the wallpapering you have to cut it away. Uncheck this option to have the wallpaper printed in exactly the right size.
Wallpaper accessories
Don't forget to order the right tools. Then you can immediately start applying the wallpaper when you receive your order.
Happy?
If you are satisfied with your result, we would be pleased to hear from you. Will you send us a picture of the result? Or share it with us on social media.