Wallpaper for teenagers in all shapes and sizes  
Is your teenager already dreaming of travelling around the world after high school? Then a photo wallpaper of a sea turtle, waterfalls in the jungle or the skyline of New York City is just the thing for him or her. More into animals? Then we also have beautiful teenage room wallpaper with a lion, a white and black horse and a tough tiger in the jungle. Also cool: a life-size vintage world map on the wall. That way, your teenager can already plan his or her journey. Pins in the wall and save up for the plane tickets!
Looking for a nice wallpaper for your teenager's room? Take a look at our wide selection and choose one that you like. That way, you can turn the bedroom into a place where your teenager likes to hang out, study and meet friends.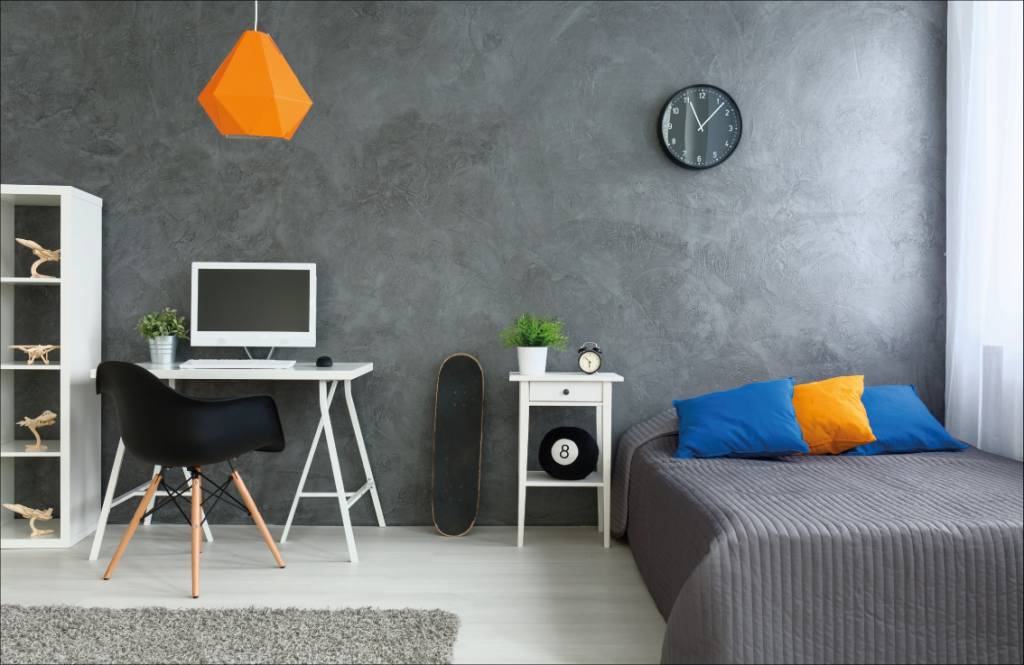 allpaper for boys and girls teenager's room
Looking for more specific wallpaper for the teenage room of a boy? Then you can think of the photo wallpaper of a football stadium, graffiti on the street or a gray Lamborghini. A close-up of a gorilla, a beautiful white tunnel in 3D and the blue skyline of Los Angeles are also very popular with young men. For wallpaper in a girl's room, we recommend dreamy pictures like vintage cherry blossoms in Japan, a jungle pattern with flamingos or red ladies' lips. The vintage singer and the woman in pop art style are also very cool. 
Teenage room wallpaper made to measure
If you have made a choice for a beautiful teenager's room wallpaper, you can easily order it online. As soon as we receive your order, we'll get to work for you. We print your teenage room wallpaper on our large format printers. We print an image in one piece, so patterns flow into each other perfectly.
Moreover, we only use PVC-free non-woven wallpaper. Non-woven wallpaper does not shrink, produces a razor-sharp print and is easy to apply. The inks used are water-based and odourless. Production takes place within 24 hours on working days and delivery within 1-3 days.
Attention! We print standard 5 centimetres extra around the edges because walls are not always straight. The photo wallpaper will therefore be printed 10 centimetres wider and higher. After the wallpapering you have to cut it away. Uncheck this option to have the wallpaper printed in exactly the right size.
Wallpaper accessories
Don't forget to order the right tools. Then you can immediately start applying the wallpaper when you receive your order.
Happy?
If you are satisfied with your result, we would be pleased to hear from you. Will you send us a picture of the result? Or share it with us on social media.