10x nature wallpaper: Inspiration for bamboo, jungle and forest prints
Do you want to take in nature at home? You can do that very well with photo wallpaper with beautiful nature printing. From bamboo forest to tropical rainforest, with nature wallpaper you can create endless atmospheres.
But with so much choice, we can imagine that you would like to have some help. That's why we have put ten beautiful wallpaper prints of bamboo, forest and jungle in a row for your inspiration.
---
A natural look
With nature wallpaper you can create any atmosphere you want, from mysterious and dark to light and airy.
Bamboo, jungle and forest wallpaper are by far the most popular choices when it comes to nature prints. We have found ten beautiful examples for you where you can get your inspiration.
Bamboo wallpaper
To start with bamboo: this grass type is characteristic for Asia and creates an exotic and mysterious atmosphere in your space. On the other hand, bamboo's bright green colour can also give a very lively and fresh image. Here are a few nice examples:
The first example gives a beautiful impression of the mysterious atmosphere that bamboo can give. Due to the mix of the dark colour of the bamboo and the dark purple bushes, this print forms an exciting combination. In addition, the sun shining on the bamboo in the background still gives a light accent to the wallpaper.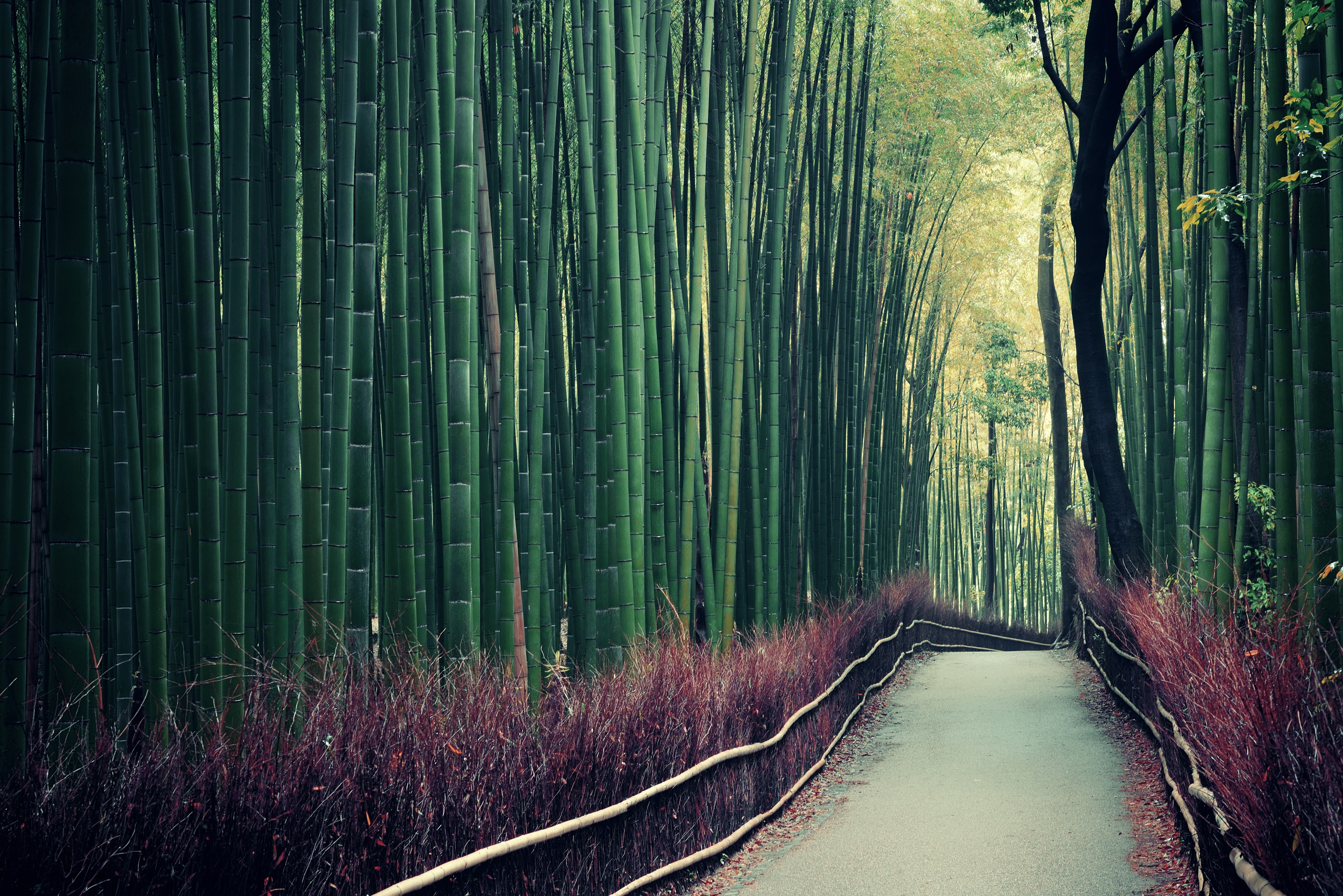 With this next bamboo wallpaper print it feels like lying on the ground in a bamboo forest. Just like in the first example we see here again a nice contrast between light and dark. However, this print already feels a lot lighter than the first one, which will give the room a more open feeling.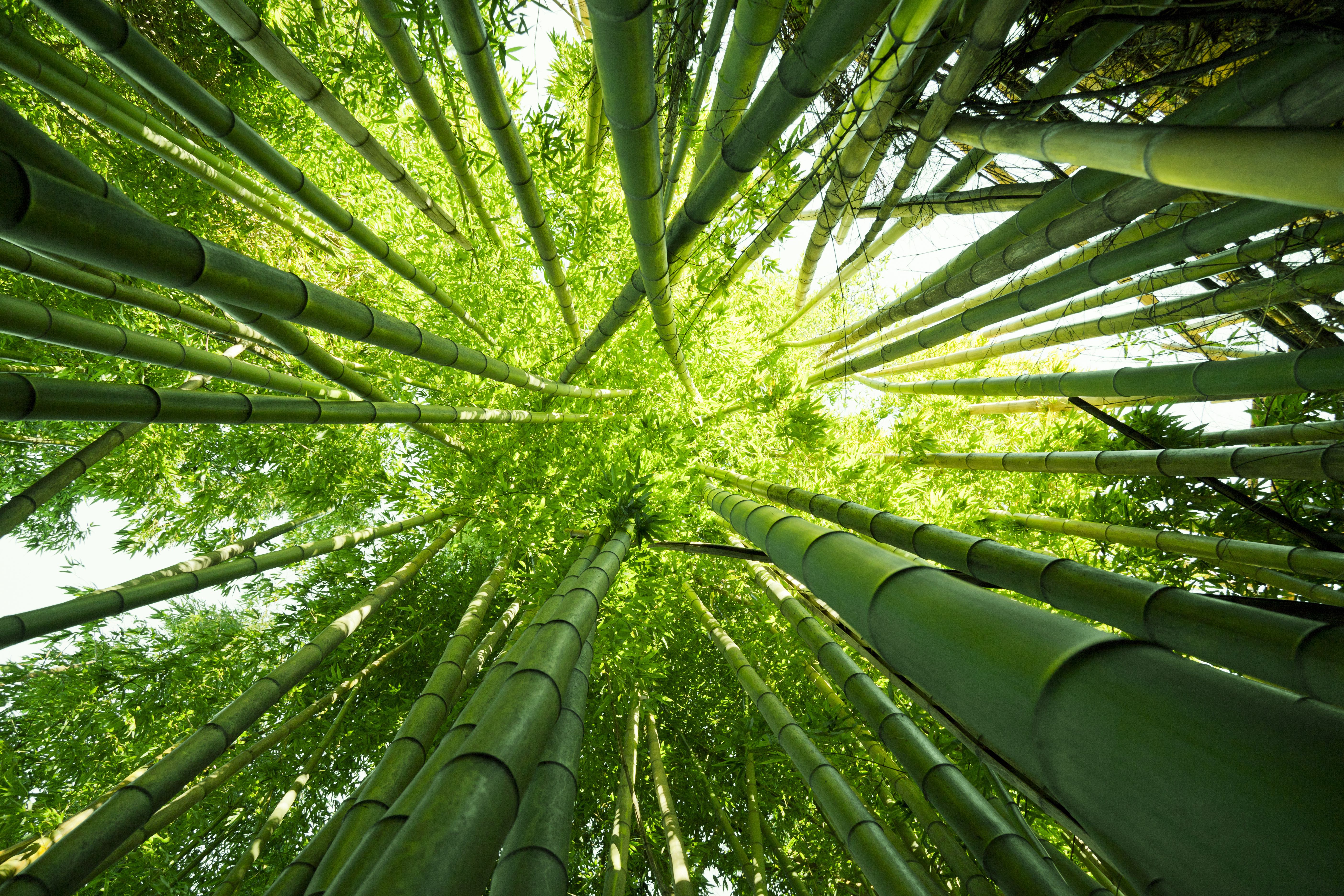 For the last bamboo wallpaper print we chose a path, or rather a staircase. On this wallpaper we see a combination of brown and green, two natural colours that combine well with colourful accents in your interior. Place this print for example in your living room and throw some yellow and orange cushions on the couch, so you can make the room cosy with ease.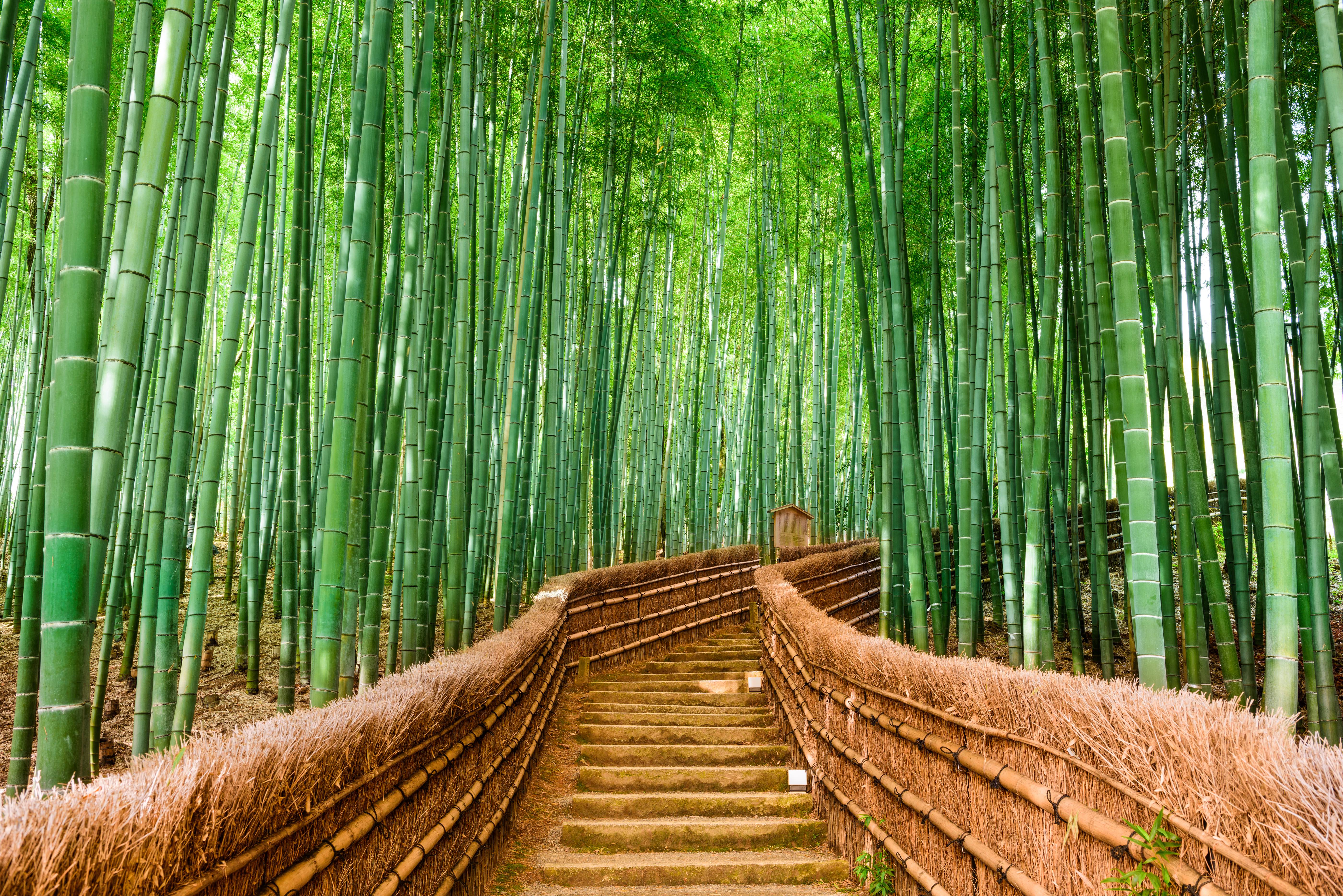 Wallpaper with jungle print
After the bamboo wallpaper we stay in the exotic atmosphere for a while, because we are going to look at jungle wallpaper. The jungle appeals to almost everyone's imagination and is filled with the most beautiful things nature has to offer. With this photo wallpaper you can bring all that beauty into your home without being bothered by mosquitoes.
A sunset is of course beautiful in itself, but in the tropics this impressive spectacle is even more beautiful. The yellow glow in the sky perfectly compliments the green treetops on this wallpaper. With this in your bedroom it feels like falling asleep in a tree house every night.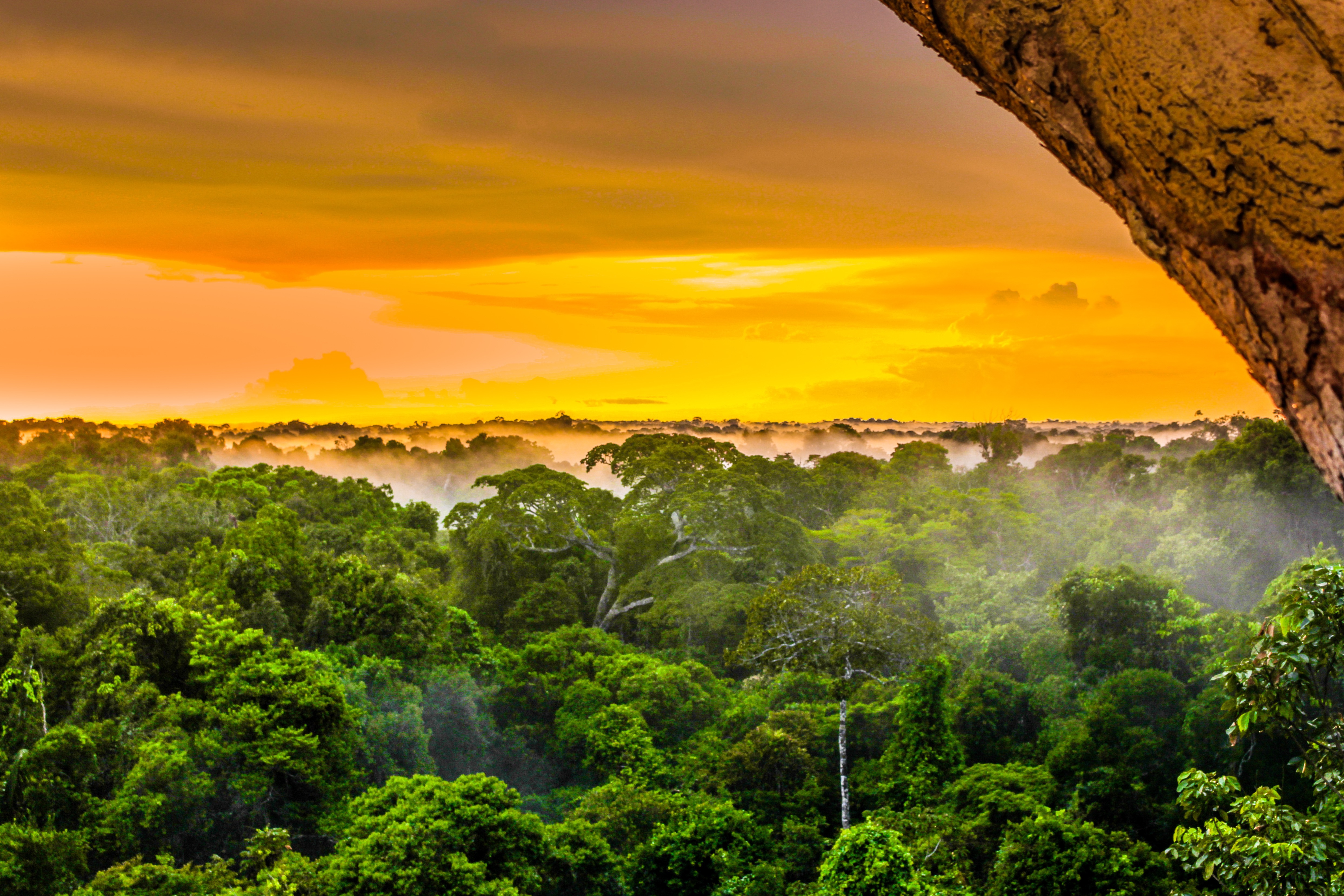 In a tropical rainforest, many people think of sunny weather. However, due to the dense leaves it is usually very dark in the jungle. That's why a open space in the forest is often quite a relief, and that's exactly what you get on this wallpaper. You can keep looking at this breathtaking picture.
If you look at this print with a waterfall you can almost hear the water clattering on the rocks. This relaxing wallpaper perfectly captures the natural beauty we expect when we think of a jungle. This would certainly not be out of place in a large room where you get the chance to appreciate the image.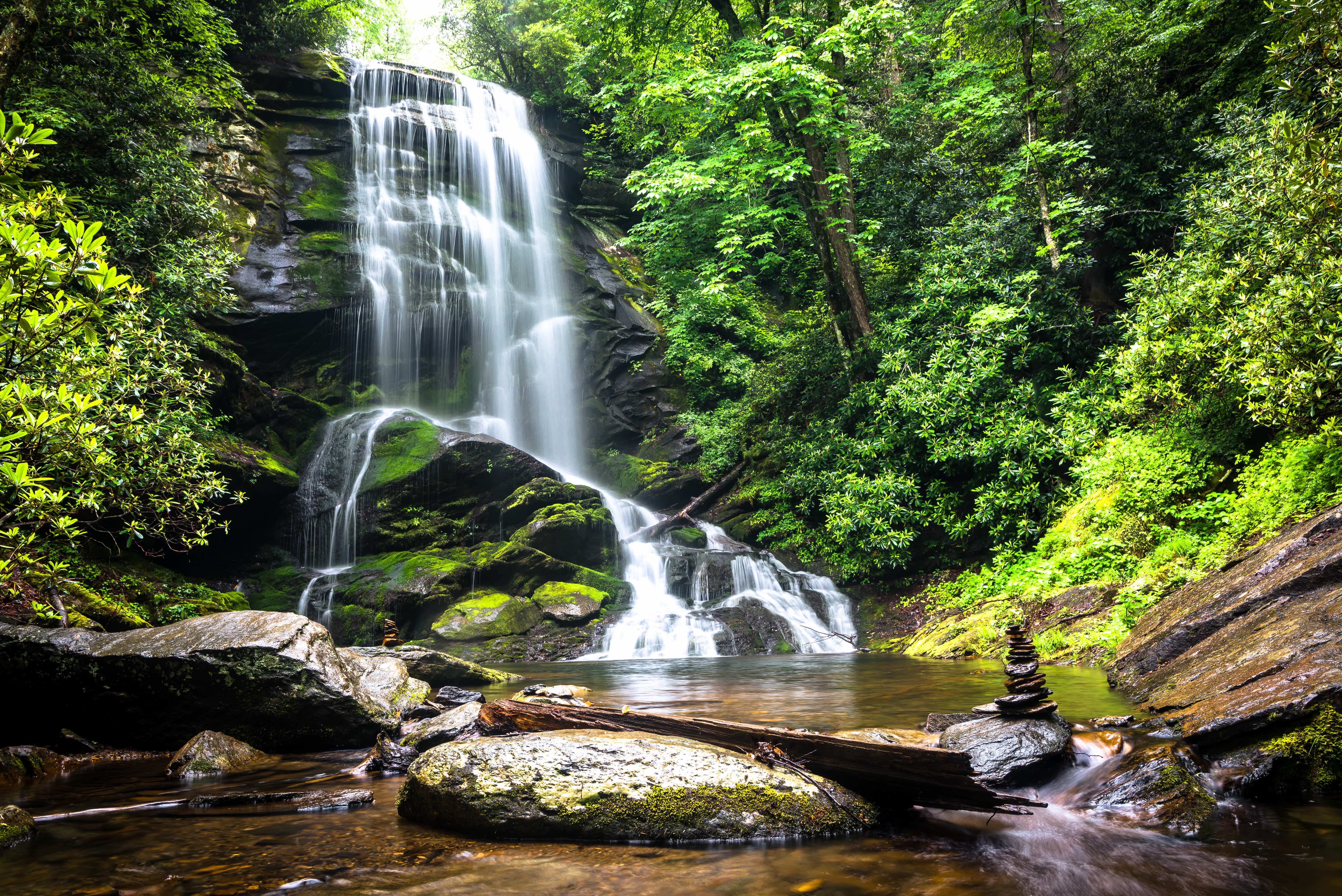 Forest wallpaper
After bamboo and jungle wallpaper we've arrived at the last category of nature wallpaper we highlight here. But we saved the best for last. The most variety is undoubtedly to be found in forest wallpaper. Pine or deciduous trees, summer or autumn, light or dark; with forest wallpaper you can really go in all directions.
This first wallpaper print shows a beautiful, soothing, forest road. The low sun provides a nice contrast between light and dark spots. This gives this forest wallpaper a dynamic feeling. Because of the green leaves, this wallpaper also combines well with yellow and orange accents.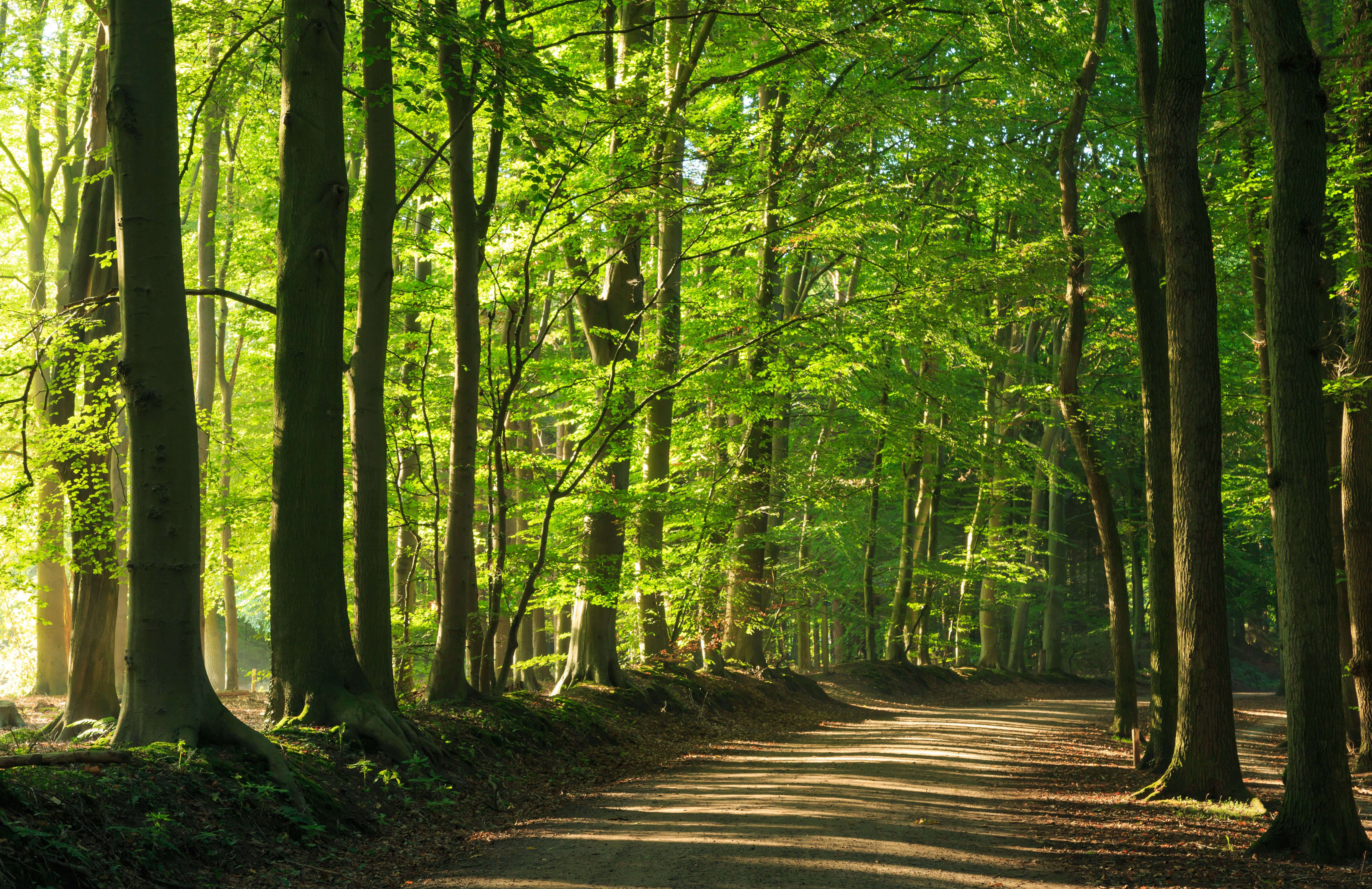 Such a beautiful sunrise, the smell of the forest in the morning, the fresh air and the warm sun, that's what you want every day, isn't it? With this wallpaper you can bring that real natural feeling into your home. Place this print in your bedroom and wake up every morning with a sunrise between the trees.
Just like a bamboo forest, a deciduous forest can be filled with mystery, especially when there is a thick layer of fog at dawn. That mysterious beauty is perfectly captured in this photo wallpaper. Because of the dark colors and the low contrast, this wallpaper looks calm and can be complemented with almost any color.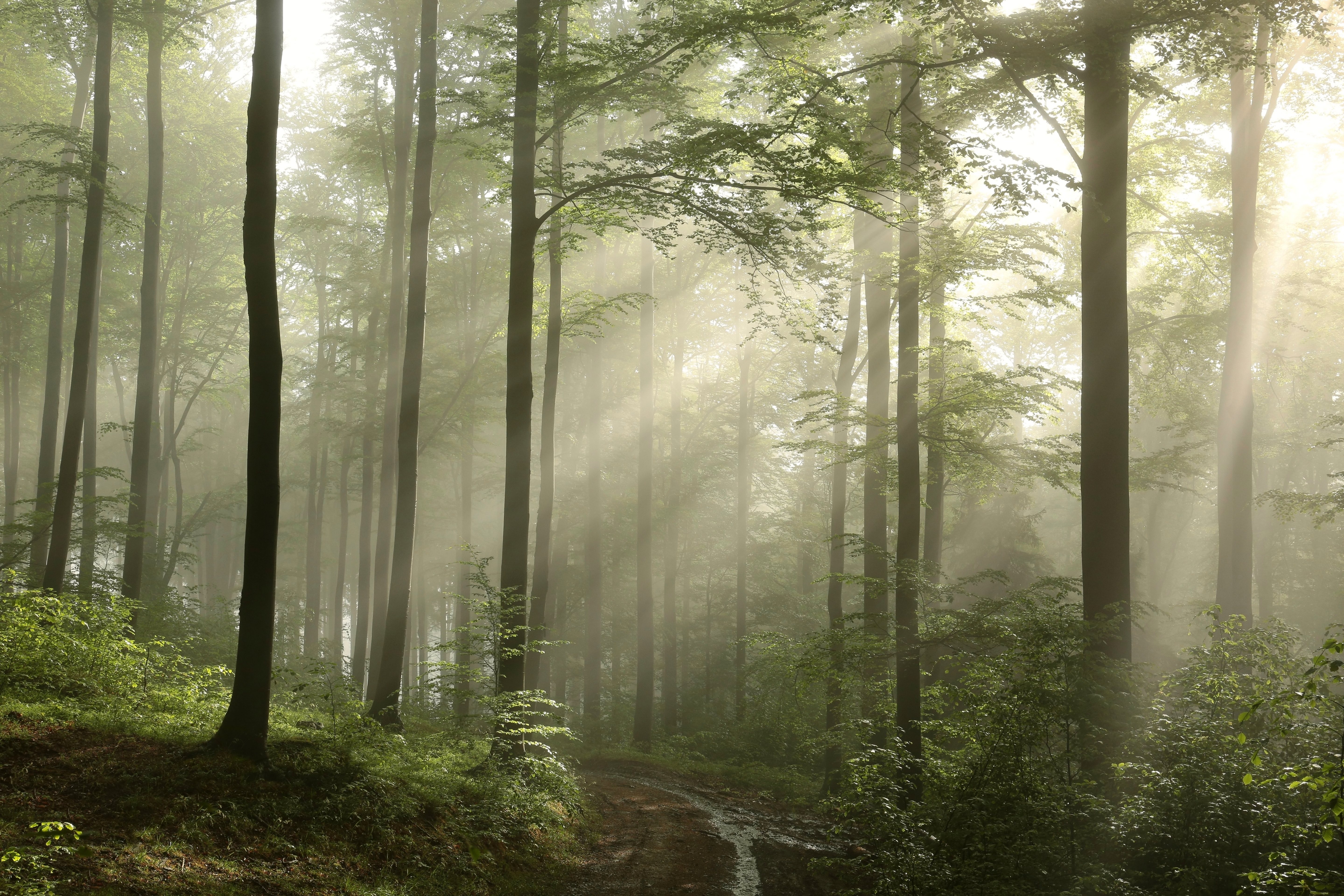 Autumn is, according to some people, the most beautiful time to walk through the forest. The many colours, the falling leaves, the changing landscape, it all makes for a beautiful sight. This last photo wallpaper shows a colorful forest in autumn, if you choose this one you will have that cozy autumn feeling all year long.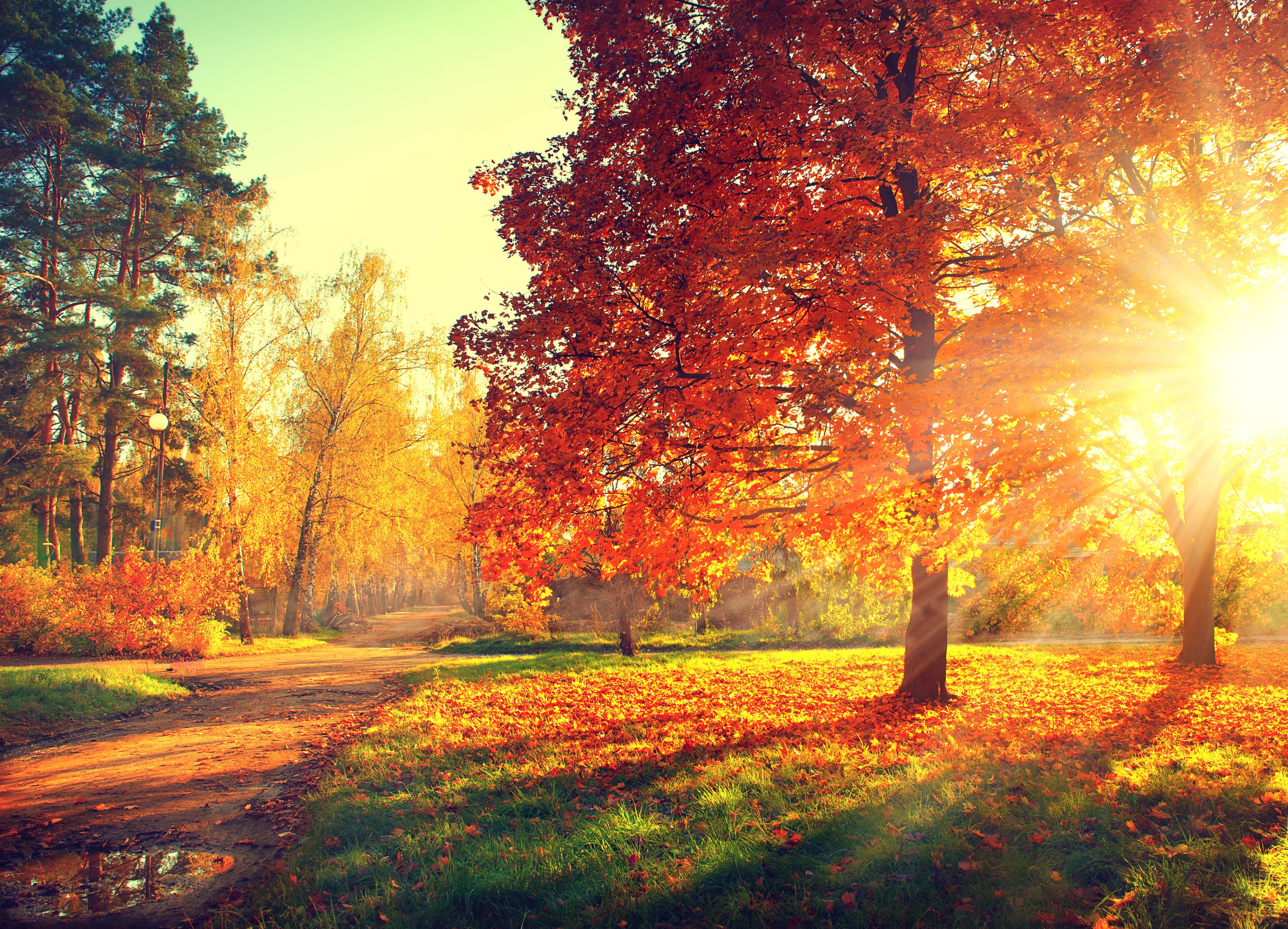 Order natural wallpaper
In this blog we have only discussed the tip of the iceberg when it comes to nature wallpaper. Besides bamboo, jungle and forest wallpaper there are many more types of nature prints to be found. Beaches, meadows, leaves, there is something for everyone.
Do you want to bring nature into your home with beautiful photo wallpaper? Then take a look in the Wallart webshop, here you will find a huge variety of wallpaper prints for every room. Because all the wallpaper from Wallart.com is 100% PVC-free, the nature wallpaper is also good for the environment. So we can continue to enjoy nature for a long time to come.