Or choose from one of the following themes
Tough, rough and tight. That is what an industrial interior stands for. You can recognise this style of living by the raw materials, such as weathered scaffolding wood, coarse metal or pure bricks. In addition to the furniture, floors and beams, these elements can also be found in industrial photo wallpaper. In this way, you strengthen the basis that is already there and complete your industrial interior. Take a look at our range of industrial wallpaper and choose the one you like.
If you want us to look for a picture for your specific wish, please let us know. Industrial wallpaper is easy to order online.
Industrial photo wallpaper in all shapes and sizes
From an old factory building to a characteristic city wall and a railway bridge made of metal. We have photo wallpaper in all shapes and sizes. Think of photos of a dilapidated staircase, an abandoned station or a former aircraft hangar. But also beautiful close-ups of a golden structure, old factory windows, or an engine block. We do not only have coloured prints, but also black and white industrial photo wallpaper. Whichever variant you choose, with this industrial photo wallpaper you really take your interior to the next level.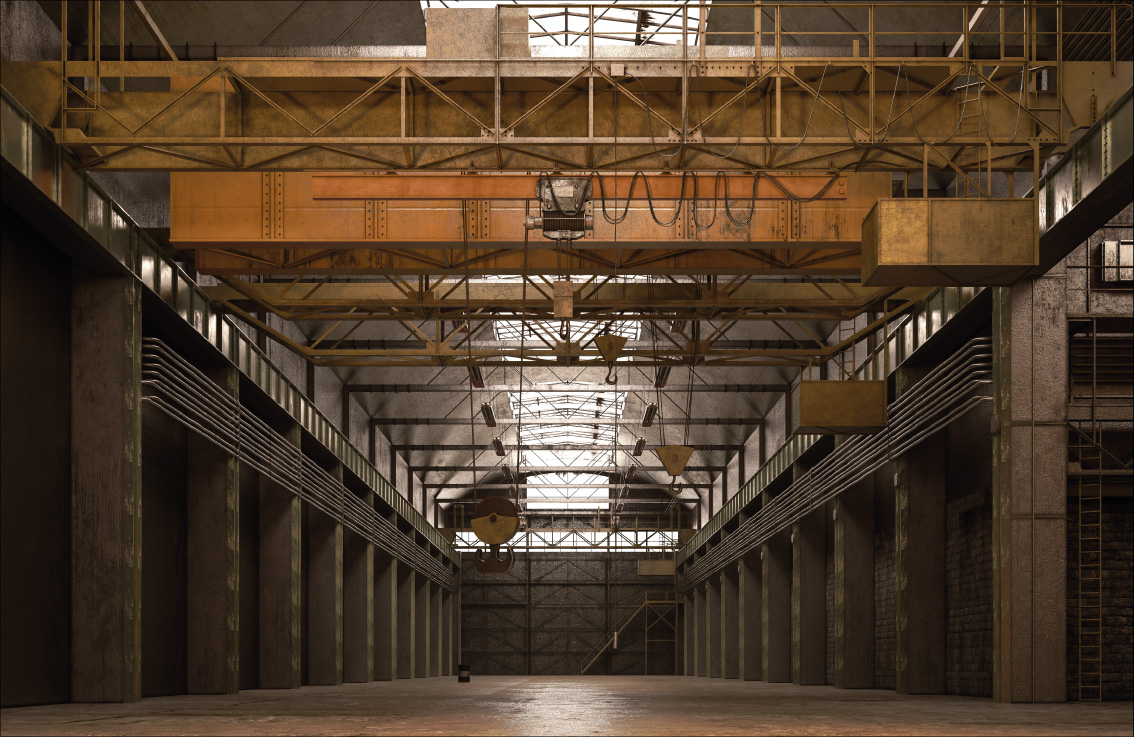 Wallpaper industrial look for every room
We know the industrial look mainly from studios with an urban feel in for example Brooklyn New York, or the heart of Amsterdam. But you can apply this everywhere with the help of industrial wallpaper. Whether you live in the countryside, or in a big city. Wallpaper the living room with an industrial image, wallpaper the bedroom with an industrial look, or give your hall a tougher look. It's all possible. This type of wall covering is suitable for all rooms and walls. Not in the least because we customise photo wallpaper - including industrial ones.
Tailor-made industrial wallpaper
Once you have made a choice for a beautiful industrial wallpaper, you can easily order it online. Once we have received your order, we will immediately get to work on your wallpaper. We print your industrial wallpaper on our large format printers. An image is printed in one piece, so that patterns run into each other perfectly.
We only use PVC-free non-woven wallpaper as wallpaper. Non-woven wallpaper does not shrink, gives a razor-sharp print and is easy to apply. The inks used are water-based and odourless. Production takes place on working days within 24 hours and delivery is within 1-3 days.
Attention! We print an extra 5 cm all around because walls are not always straight. The photo wallpaper is therefore printed 10 cm wider and higher. After wallpapering you have to cut it away. Uncheck this option to have the wallpaper printed exactly to size.
Wallpaper accessories
Don't forget to order the right tools. Then you can immediately start applying the wallpaper when you receive your order.
Happy?
If you are satisfied with your result, we would be pleased to hear from you. Will you send us a picture of the result? Or share it with us on social media.