Wallpaper bedroom quiet
Get inspiration for your bedroom in our extensive range of bedroom wallpaper. You can of course make it as colourful as you want, but in general it's nice to choose a quiet wallpaper in the bedroom. Examples are the white wallpaper with sketches of faces, the photo wallpaper with a close-up of a precious stone and the bedroom wallpaper with flowers in watercolour. But also the black and white wallpaper of two elephants, photo wallpaper of dreamy flower fields and for example the photo of Mount Fuji in Japan are very suitable. 
Maybe you are a real globetrotter and you dream away at tropical pictures like the sun behind the palm trees. Or an amazing waterfall. Or snow-capped mountains. Maybe you are a true romantic and prefer a still life with flowers in a vase in beautiful full colours like red, pink and blue. Or do you prefer to keep it very serene? That's also possible with the bedroom wallpaper of geometric patterns, cherry blossom or a picture of clouds, among others.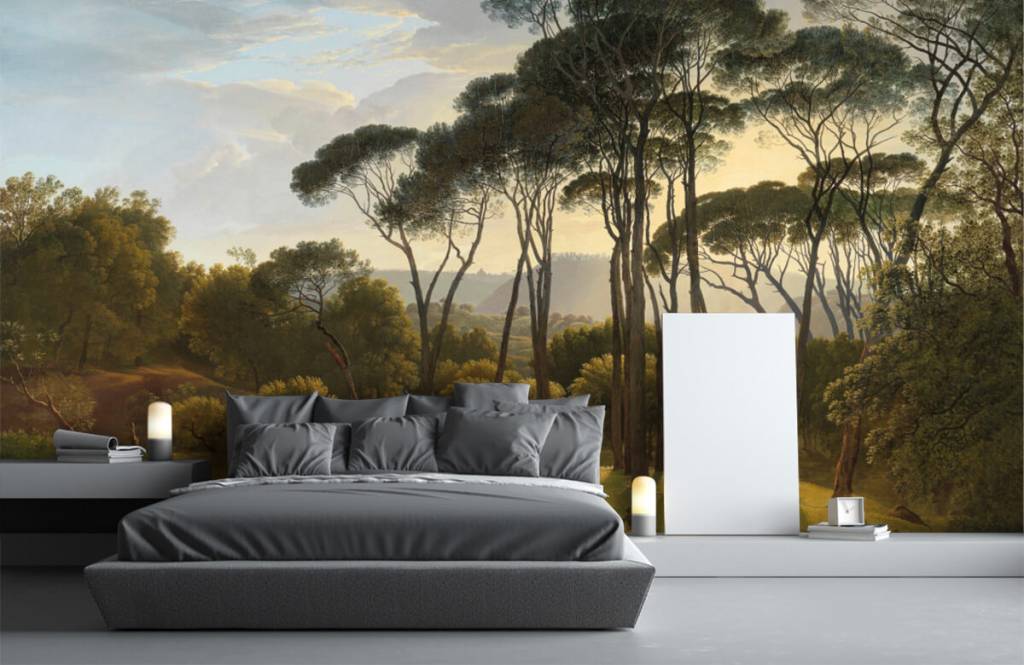 Bedroom wallpaper inspiration
Take a look at the many pictures on our website to see how you can style the wallpaper. A tip from our experts? Create unity and keep it quiet. In a quiet environment, you can sleep best. Go for example for a beautiful bedroom wallpaper of the Alaskan starry sky and paint the surrounding walls in a matching shade of dark blue. Or choose the light wallpaper of two Scottish Highlanders and style the rest of your bedroom with natural materials such as wood and earthy tones such as beige.
Tailor-made bedroom wallpaper
If you have made a choice for a beautiful bedroom wallpaper, you can easily order it online. As soon as we receive your order, we get to work for you. We print your bedroom wallpaper on our large format printers. We print an image in one piece, so patterns flow into each other perfectly. 
Moreover, we only use PVC-free non-woven wallpaper. Non-woven wallpaper in the bedroom does not shrink, produces a razor-sharp print and is easy to apply. The inks used are water-based and odourless. Production takes place within 24 hours on working days and delivery within 1-3 days.
Attention! We print standard 5 centimetres extra around the edges because walls are not always straight. The photo wallpaper will therefore be printed 10 centimetres wider and higher. After the wallpapering you have to cut it away. Uncheck this option to have the wallpaper printed in exactly the right size.
Wallpaper accessories
Don't forget to order the right tools. Then you can immediately start applying the wallpaper when you receive your order.
Happy?
If you are satisfied with your result, we would be pleased to hear from you. Will you send us a picture of the result? Or share it with us on social media.